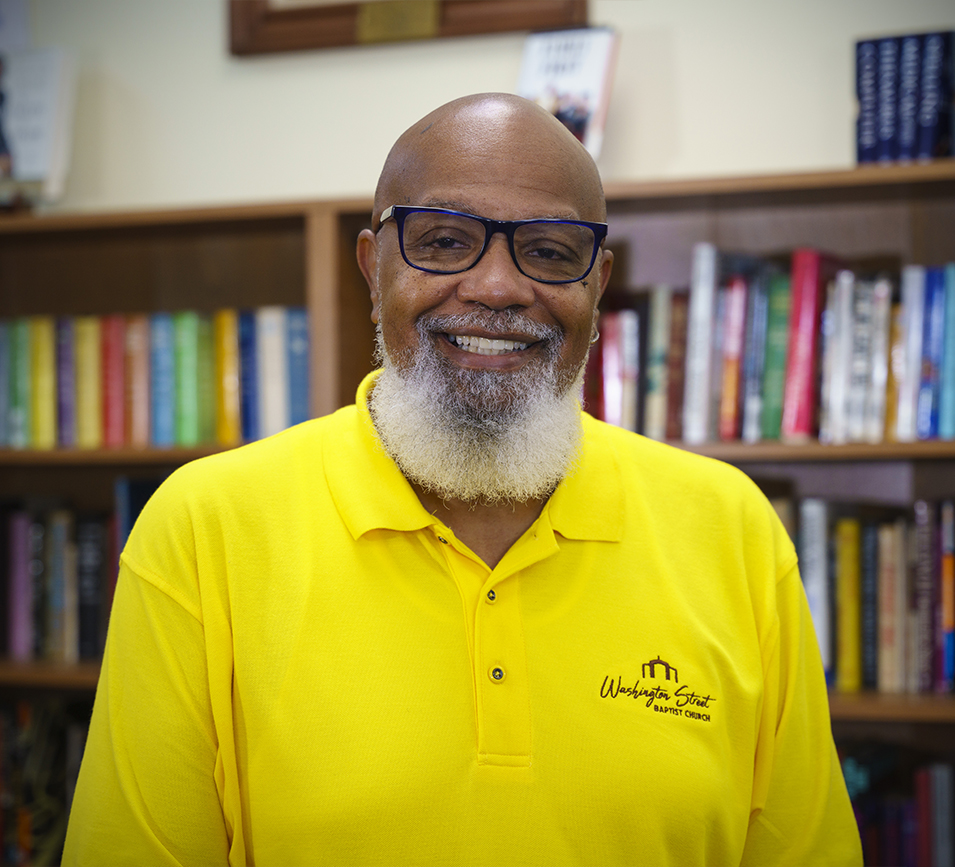 Pastor Raynarldo M. Henderson was born in Chicago, Illinois, on January 28, 1962, where he was educated, licensed and ordained to preach the gospel. He was licensed on September 29, 1979 and ordained on May 26, 1985 by the Faith Tabernacle Baptist Church in Chicago, IL. Pastor Henderson studied at the Southern Baptist Theological Seminary in Louisville, Kentucky, where he received a Master of Divinity Degree with an emphasis in "Pastoral Care" in May of 1987. He pastored the Cedar Street Baptist Church in Owensboro, Kentucky, which became the first African-American Southern Baptist Mission in the state of Kentucky, to be constituted as a church with a white sponsoring congregation. He also studied at Judson College in Elgin, IL. where he received a Bachelor of Arts Degree in Communication Arts, Radio and Television and also served as student chaplain.
Before coming to Paducah, Kentucky to serve as the 17th Pastor of the Washington Street Missionary Baptist Church, he served as the First Vice Moderator of Chicago Metropolitan Baptist Association, the Assistant Recording Secretary for the Illinois State Baptist Convention, and organizer and director of Boyce Bible School Off-Campus Center of Chicago (Southern Baptist Theological Seminary).  His ministerial experience include: Director of Church Development, Faith Tabernacle Baptist Church, Chicago, Illinois; Director of Religious Education, First Corinthian Baptist Church & Sweet Holy Spirit Baptist Church, Chicago, IL; Pastor, Tree of Life Baptist, Chicago, IL; Interim Pastor, Rain or Shine Baptist Church, Chicago, IL; Youth Director, West End Baptist Church, Louisville, KY; Intern, General Association of Baptist in Kentucky, Louisville; and Summer Missionary, Chicago Metropolitan Baptist Association.
Pastor Henderson is married to the former Cherri Adams. They have three children; Raiona Nicole, Adam Daniel, and Lauren Camille. Pastor and First Lady Cherri have one grandaughter, Keelyn Lanell.  Since arriving at the Washington Street Church, in June of 1992, many ministries have been implemented. These ministries touch people where they hurt, lifting them to a new level of faith. He has instituted The Biblical Institute For Learning, F.A.I.T.H., and The Dave Ramsey Financial Peace University classes, to name just a few.
Pastor Henderson preaches and teaches a gospel that touches the youngest to the eldest. He often says, "Washington Street Church is a safe place to hear a risky message." In Preaching and Teaching, Pastor Henderson challenges the hearer to a personal relationship with Jesus Christ. It's not about just coming to church he teaches, it's about a personal and intimate relationship. In 2008 Pastor Henderson and the leadership team revised Washington Street mission statement, "Our mission is to be an excited body of believers, encouraging all people to a new beginning through unconditional love and a personal relationship with Jesus Christ."
In 2005 Pastor Henderson was selected as Vice President of the Will Graham Celebration and also in 2005 he became the President and Founder of the Washington Street Community Development Corporation. In 2007, Pastor Henderson's sermon "When God Puts You on Hold" was published in the Fall Edition of The African American Pulpit, which is a quarterly journal that serves as a repository for the very best of African American preaching and provides practical and creative resources for persons in ministry.  Pastor Henderson has immersed himself in the Paducah community. He has been actively involved in community and state affairs where he served on the Paducah Housing Authority Board for 17 years, 16 of those years he served as Chairman of the Board. In September of 2011 in honor of Pastor Henderson's service as Chairman, the Blackburn Court Community Center was dedicated and renamed the Reverend Raynarldo Henderson Community Center. Pastor Henderson also served on Governor Ernie Fletcher's Blue Ribbon Panel to study the viability of the Human Rights Commission.
In January of 2021, Pastor Henderson was inaugurated into the 43rd class of the Paducah  City Commission. 
Link to the 2021 City of Paducah Elected Officials
Washington Street Baptist Church believes in you too, that's why everyone is welcome here.